UNDERSTANDING MISS KELEHER
by Efrain Suarez Arce
On February 6, 2018 Puerto Rico's Education Secretary Julia Keleher said the following to the El Nuevo Dia newspaper in an article called "EDUCACIÓN INICIARÍA CON 14 ESCUELAS CHARTER"
 "…es importante que el país y las comunidades me escuchen. Esto se trata, no de los derechos del magisterio, se trata de opciones para las familias, para los estudiantes, y en la última década no lo hemos tenido. No ha sido justo y equitativo para la población". 
That same afternoon at around 4:00pm I was watching a local news story on Channel 4 where I saw Miss Keleher very clearly ask the following question:
"¿Cuando vamos a dejar de hablar de de los derechos del magisterio, y empezar a hablar de opciones para los estudiantes?"
As an English teacher I was so insulted and infuriated by this very public and unapologetic glove in the face that it is my belief that these very public expressions should not and will not go answered.
The funny part is that while US Education Secretary Betsy DeVos has a BA in Business Economics and married into money, Miss Keleher has a BA in Political Science, a MS Ed in Psychological Services, an Ed.D in Educational Administration, Policy and Leadership, an MBA, is a Certified Project Management Professional from the Project Management Institute, has a Lean Six Sigma Green Belt Certification and is a graduate of Stanford University's Strategic Decision Making and Risk Management Program.
For Betsy DeVos, looking at Miss Keleher must be like staring into the Sun.
It's not like she doesn't know any better than DeVos.  Miss Keleher has grace, elegance, wit, a sunny disposition and a warm smile that could charm you into jumping off a building. There is a reason why her critics have compared her to the Japanese super hero, Sailor Moon [1],…
As a Sailor Moon fan who watched all 200 episodes of the series I understand the comparison. She DOES project a sort of romantic heroine, can-do-against-all odds vibe. Yes, she pisses them off THAT much and she's THAT smart and THAT capable… WHETHER OR NOT THAT IS GOOD FOR STUDENTS AND TEACHERS REMAINS TO BE SEEN.
One thing is for sure… DO NOT make the mistake of mistaking Miss Keleher for Airheads like Betsy DeVos and Michelle Rhee, bullies like Chris Christie, duelists like Jose Arsenio Torres, arrogant intellectuals like Rafael Aragunde or political lackeys like Rafael Roman.
First we must direct ourselves to the question, "When are we going to stop talking about teacher's rights and start talking about options for our students?"
I wholeheartedly agree with my friend and fellow blogger Michael Castro who believes that this is a "False Problem" conveniently created by school administrators – There is no conflict between the rights of teachers and the rights of students. As Michael stated: "everyone has rights".
I'd like to quote something from an article by teacher Mitchell Robinson[2]:
"If we want schools to be healthy, sustainable public institutions, every person who works in them must be treated with dignity and respect. Schools and teachers can be "student centered" and teachers can still be treated as professionals; paid a decent salary; receive good benefits; and be guaranteed excellent working conditions. Because teachers' working conditions are students' learning conditions."
"The narrative that "it's all about the kids" erases the role of teachers and other adults in the education profession and makes it easier to advance policies that deprofessionalize the teaching profession (see: Teach for America, charter schools, canned curriculum, scripted lesson plans.) It also makes it easier to pay teachers less money, since "they are not in it for the income; they are in it for the outcomes.""
Or this quote from another article by Joseph A. Ricciotti, Ed.D:[3]
"The hypocrisy of so-called reformers such as Michelle Rhee and other non-educators in the so-called education reform movement is evident when they claim that they respect the work of teachers so long as teachers don't have control of their work environment and, in essence, are powerless to fight back due to the stripping away of their collective bargaining rights."
"These reformers, all of whom are non-educators, have been back peddling and broadcasting a wide assortment of low-level propaganda while blaming teachers for everything that is wrong with education. However, as Randy Weingarten, president of the American Federation of Teachers, told her audience at their recent annual meeting, these so-called reformers "wouldn't last 10 minutes in a classroom."
"The so-called education reform movement in the country is based on two principles — testing and the dismantling of teaching empowerment. It is a movement lead primarily by non-educators such as Duncan, former D.C. chancellor Rhee, former Microsoft CEO Bill Gates, and politicians such as Mayor Michael Bloomberg of New York City and New Jersey Gov. Chris Christie. According to the plethora of reports and analyses of the reform movement in the media, it has become quite evident that "reformers" such as Rhee are simply discredited hucksters for the corporate push to take over and profitize schools in this country. Their real motive and hidden agenda is to first destroy the teachers unions and then to take over public education with for-profit charter schools as their primary vehicle of reform."
"The movement by the non-educators to use test scores as the be-all and end-all of education reform has been a disaster for both students and teachers. It is also demeaning of teachers. Certainly, common sense would dictate that you cannot ignore, for example, the role poverty plays in academic achievement. As long as poverty exists it will be an important factor, and in order to move forward as a nation, we must improve the schools as well as reduce poverty. "
Miss Keleher's emphasis on "school choice" in completely in sync with Education Secretary Betsy DeVos' education policy, which is that the priority is expanding "school choice." But what is that, exactly?
Miss Keleher's office would probably say that the School Choice Movement seeks to expand alternatives to traditional public schools for children who have poor educational options in their neighborhoods and to give parents a choice in their children's education. But her office is also aware that that using public funds to support individual choice of schools subverts the traditional public system, which educates the majority of school-age children, and that its ultimate goal is to privatize the most important civic institution in the country and the corner of democracy itself.
Secretary DeVos has been an important advocate for school choice for decades, spending her time and a great deal of money to promote choice options in her home state of Michigan, where she successfully helped expand charter schools but failed to get a voucher program passed. She has created and run organizations that have lobbied for school choice around the country.
When Miss Keleher states in her interview with El Nuevo Dia that Charter Schools make the island eligible for more education funding, we should be clear and state that Secretary DeVos's Education Department is planning to spend an unprecedented amount of public money — well over $1 billion — to expand school choice in the 2018 proposed budget, and it is said to be considering other ways to promote choice. DeVos has not been shy about publicly expressing disdain for the traditional public school system by calling it a "dead end" and a "monopoly."
The trouble is that
1)      The Puerto Rico public education system cannot be run like a business because students are not products. This has become evident in other states where Charters have been adopted
2)      Traditional schools must accept all children but charter schools won't, and traditional systems will be hurt when financial resources are diverted from districts that are chronically underfunded.
3)      Charter Schools in general are not accountable to the public the same way traditional public schools are and oversight is lax in many states, leading to financial and other scandals.
4)      The reason many charter supporters view charters as an option parents should have is that they don't want to talk about the original reason that Charter Schools were created: to operate outside the traditional public school districts to give them flexibility to try out new things and serve as laboratories. The idea was that they would provide competition to traditional schools and prompt them to improve.
5)      Many charter schools operate differently from traditional public schools but not necessarily in the way people think. They counsel out students who can't keep up with the school's program, for example, or accepting fewer students with severe disabilities than do traditional public schools. The puertorrican term for this is "competencia desleal".
6)      According to Sociologist Christopher Bonastia in his 2015 article "The Racist History of the Charter School Movement", the idea of offering public funds to private entrepreneurs has historical roots in white resistance to school desegregation after Brown v. Board of Education (1954). The desired outcome at the time was few or, better yet, no black students in white schools. In Prince Edward County, Virginia, one of the five cases decided in Brown, segregationist whites sought to outwit integration by directing taxpayer funds to segregated private schools.
7)      Meanwhile, in more subtle attempts to avoid desegregation, states and localities also enacted "freedom of choice" plans that typically allowed white students to transfer out of desegregated schools, but forced black students to clear numerous administrative hurdles and, not infrequently, withstand harassment from teachers and students if they entered formerly all-white schools. When some segregationists began to acknowledge that separate black and white schools were no longer viable legally, they sought other means to eliminate "undesirables" such as letting them in and then chasing them out by setting high academic standards they could not maintain.
8)      Modern day Charter school operators (like health insurers who seek to exclude potentially costly applicants) have developed methods to screen out applicants who are likely to affect overall test scores. Sifting mechanisms may include interviews with parents (since parents of low-performing students are less likely to show up for the interview), essays by students, and letters of recommendation and scrutiny of attendance records. Low-achieving students enrolled in charters can, for example, be recommended for special education programs that the school lacks, thus forcing their transfer back to a traditional public school. (More brazenly, some schools have experienced, and perhaps even encouraged, rampant cheating on standardized tests.)
9)      Some charter schools also foster religious segmentation. Once upon a time there was a Michigan charter school, Noah Webster Academy that received public funds to establish a computer network to educate a group of Christian home-schooled students. In Minnesota, a Muslim group established the Tarek ibn Ziyad Academy, a publicly funded charter school designed to teach Islamic history and culture. In 2007, in Florida, an Orthodox rabbi established a Hebrew-language charter school serving kosher lunches and teaching Jewish culture and history. And the Archdiocese of Washington has proposed converting eight Roman Catholic schools into publicly funded charter schools. While Catholic officials have said they would strip explicit religious instruction from the curriculum, the conservatively oriented Thomas B. Fordham Foundation's Education Gadfly argues that "maybe it would be better still if they could remain religious—and still go charter." Some Charter Schools will at some point inevitably violate the fundamental constitutional principle of separation between church and state, just wait and see.
10)   Many charter schools also simply fail to address another form of segregation: by income. Charter schools, as schools of choice, have the potential to attack what many educators both here in Puerto Rico and the upper 48 states regard as the source of educational inequality: the concentration of poor children. While a small number of highly publicized charter schools have done well despite concentrations of poverty, the vast majority have not. Most high-poverty charter schools, like most high-poverty regular public schools, simply fail to produce high levels of academic performance.
From an administrative point of view, teachers who are treated with dignity, respect, fairness and compassion, who don't have to hold down a second job to make ends meet, who don't live in fear of retiring into poverty – These teachers will produce more and more consistently than teachers who are overworked, underpaid, overwhelmed by paperwork, brutalized by administrative procedures designed to kick them to the curb and intimidated by the kaleidoscope of Common Core Standards, Value Added Measurement, Standardized Testing and "Teaching to the Test".
Teachers in Puerto Rico face get a lot of public hostility, such as radio and TV personality Jay Fonseca, who just can't shut up about teachers, their unions, their vacations and their tenure.[4]
Today, the AMPR and other teacher unions in Puerto Rico continue to play important roles in protecting the rights of teachers, especially in the current climate of Charter Schools and
There's a common view among corporate-style reformers and certain radio and TV personalities today that the way to fix low-performing schools is to install a Principal who rules with an iron fist. Many principals have little classroom experience, and lack the judgment, knowledge, common sense and/or iteligence to make wise decisions about curriculum and instruction or to evaluate seasoned teachers. We also see principals use techniques like "Mobbing" and "Gas-Lighting" and the French revolution style application of "Institutional Abuse" laws and administrative procedures. [5]
When experienced teachers must work under the control of an inexperienced, vindictive or just plain stupid principal, they need the protection of their union against arbitrary and unwise decisions.
21 de marzo de 2018
Yaritza Rivera Clemente, EL VOCERO
"No tengo ninguna intención de presentar la renuncia". Con esta expresión la secretaria de Educación, Julia Keleher, despachó ayer los rumores que han comenzado a surgir dentro de dicha agencia sobre que estaría presentando la dimisión a su cargo en las próximas semanas.
Dos fuentes internas de Educación aseguraron, por separado, que Keleher abandonaría su posición luego de que la Asamblea Legislativa aprobara el proyecto de reforma educativa y el gobernador Ricardo Rosselló estampe su firma en la medida.
"Estoy comprometida con el propósito de asegurar que los jóvenes de Puerto Rico tengan un sistema de educación pública que realmente les permita desarrollarse y desarrollar sus sueños. Yo vine para eso y entendí desde un principio que era un reto, que no iba a ser tan fácil, pero estoy comprometida hasta el final porque se trata del futuro de una generación y uno no puede dejarlo tan fácil", dijo Keleher en entrevista con EL VOCERO.
"Es difícil lo que estamos tratando de hacer, pero lo que se ve es que el cambio se está dando porque uno ve la reacción y el cambio es así. Uno aprende. Uno crece a través del camino", agregó la funcionaria.
De otro lado, Keleher reaccionó a la aprobación del proyecto de ley que viabiliza la reforma educativa, el cual fue enviado a La Fortaleza para la firma del primer ejecutivo. "Me alegra mucho que haya habido tanto espacio para recoger todas las sugerencias y atender todas las inquietudes de las personas", dijo la secretaria, quien agregó que la medida "mayormente refleja todo lo que se quería implementar".
Asimismo, se mostró satisfecha con el trabajo realizado en la Legislatura y afirmó que no "tiene ningún problema" con la enmienda que le incluyó Senado para garantizar por escrito todos los derechos adquiridos del magisterio.
La medida legislativa establece, entre otras cosas, que se va a aprobar el Seguro Social para nuevos maestros como parte de su compensación y beneficios; que se mantiene en un 3%, o 9,900 alumnos anuales, el otorgamiento de certificados bajo el programa de libre selección de escuelas o vales educativos y que las escuelas chárter no pueden ser más del 10% del número total de planteles en funciones para agosto de 2018.
De hecho, afirmó que "nadie va a tratar de tomar decisión con mucha prisa para tratar de llegar a un 10% (en la implementación de las escuelas chárter)". Aseguró que el proceso para integrar ese modelo al nuevo sistema educativo sería uno totalmente abierto, en el que incluso se estarían publicando comentarios en el portal digital de la agencia.
Sobre la eliminación de toda referencia al término equidad de género y de la integración de un currículo de educación sexual en las escuelas, Keleher comentó: "Entiendo que la secretaria debe implementar lo que es la política pública del gobierno, pero creo que es importante asegurar la equidad y el derecho humano entre un hombre y una mujer. Creo que es bien importante la idea de que todos somos iguales y que todos nos merecemos el mismo trato".
"Yo tengo la esperanza de que cuando se comience a implementar todo esto los maestros y los directores de escuela puedan ver cómo, a través de la reforma, estamos buscando mejorar no solo las condiciones laborales que ellos tienen, sino el tratamiento hacia ellos como profesionales, de una manera que funcione mejor el sistema para que ellos no tengan que luchar tanto para proteger sus derechos adquiridos. Buscamos un ambiente más amigable y cómodo para ellos", abundó la secretaria.
A pesar de que no todo el magisterio ha expresado su apoyo al proyecto de reforma educativa y se organizó un paro en repudio a dicha medida, Keleher comentó:
"De mi parte no hay animosidad, no hay rencor, no estoy ofendida. No hay nada negativo hacia los maestros y la Asociación (de Maestros). Las puertas siguen estando abiertas con un espíritu de colaboración. Yo siempre he entendido la perspectiva de ellos. No he tenido nada en contra de ellos y entiendo que hay cosas filosóficas y de los sindicatos que ellos tienen que defender. Por diferir en algunos asuntos no nos convierte en enemigos".
Tras la aprobación de la medida, aseguró tener como prioridad trabajar en la correcta implantación de la reforma, así como también de la tecnología, los recursos humanos, el presupuesto, los asuntos académicos, la compra de materiales, de programas como el bilingüismo, el manejo de fondos federales, la evaluación de los maestros y establecer las nuevas regiones educativas.
APRIL 2, 2019
Puerto Rico's recently departed Secretary of Education defended her tumultuous tenure in a defiant speech at an education conference Friday.
Keleher said she closed schools because "somebody had to be the responsible adult in the room." She accumulated enemies by rejecting how the island's school system used to work, she said. And she had been affected by online criticism tagged #juliagohome, she told the crowd.
"Has anyone ever felt like a minority in a situation? By your voice, by your demographic? That feeling of 'other' is difficult," said Keleher, who is not from Puerto Rico.
The unusually charged speech, at a Yale School of Management education conference, came after Keleher announced she would step down earlier this week — and included her acknowledging an investigation into some element of her or the department's work.
As superintendent, Keleher drew resistance for her actions in the wake of two hurricanes that devastated Puerto Rico in 2017 and pushed 130,000 residents to leave the island, causing student enrollment to plummet. She closed nearly a quarter of Puerto Rico's public schools and opened the island's first charter school. Two more charters are slated to open next school year, when a private school voucher program is also set to begin.
Frustration followed Keleher to New Haven. A letter criticizing her policies (and her invitation by conference organizers) circulated at the event.
"Rather than overseeing plans that would put the public school system onto a path of genuine recovery and growth, you pushed the creation of charter schools," said the letter, signed by Yale junior Adriana Colón-Adorno. "You have relied on the emigration of families after Hurricanes Maria and Irma to justify your closing of schools, but basic logic dictates that closing schools would only worsen that the conditions that made them leave in the first place."
Keleher referenced the criticism before launching into a defense of her work. "If this letter wasn't about me, it was about you, how would you feel?" she said.
She described the Puerto Rican school system as almost dystopian, lacking basic infrastructure and rife with corruption and patronage before she arrived. Decisions not to award contracts to political campaign workers, she said, earned her "a very vast and powerful group of enemies."
Her voice wavered as she described visiting a classroom where a teacher was working in the dark. She was trying to change conditions in schools that many in Puerto Rico had to come to accept, she said.
"Are you familiar with New York City, the broken window concept? What happens over time when people just see the broken window? There becomes a state of acceptance," she said, referring to a controversial policing theory. "In an environment where there aren't books, and there aren't teachers, and the buildings are falling down. And that's just how it is."
The decision to close schools, she said, was a challenging but necessary one because Puerto Rico had not adjusted in response to long-running declines in school enrollment that were exacerbated by the hurricanes.
"I regret the pain that that caused communities," she said. "But somebody had to be the responsible adult in the room. They had to do what people hadn't done in a decade."
Keleher has also pointed to the additional resources schools have received, like nurses and laptops, as well as planned teacher pay raises.
That hasn't been enough for some teachers and families in Puerto Rico. At one point during her tenure, teachers in San Juan walked out in protest of Keleher's policies. The school closures left some parents worried about students' commutes, NPR reported, and the union attempted unsuccessfully to try to stop new charter and voucher programs.
"During her tenure, Puerto Rico's Education Secretary Julia Keleher treated educators and parents as a speed bump, implementing policies that created chaos and instability for the island's 320,000 schoolchildren," American Federation of Teachers President Randi Weingarten and Puerto Rico's teachers union chief Aida Diaz said in a statement Tuesday.
When Keleher announced Monday that she was stepping down, she said she planned to stay on as an adviser to the education department. That changed Thursday, as reports surfaced of a federal investigation into department contracts and Keleher said she would drop her advising role.
At the Yale event, Keleher said that it was the right time to turn power over to someone better at handling nitty-gritty details, now that sweeping changes are in the works.
"It was the appropriate time for someone to take on the leadership role who will be responsible for implementation," she said.
Keleher also referenced an investigation into technology spending.
"We made an investment of $300 million in technology, because not all schools were online, so kids actually didn't have access to the Internet," she said. "The headline today is, 'They demand an investigation into the use of federal funds to buy computers' Look, we used a rubric. It was a rigorous process … There was nothing fraudulent or illegal or incorrect about how that procurement process happened."
She declined to elaborate when asked by Chalkbeat. It was unclear whether that is connected to local press reports referencing a federal investigation and legislative inquiry.
"I have no comment about the investigation," Keleher said. "Investigations have been happening in the Department of Education since forever. So I think they need to be able to run their course."
April 5, 2019[a]
To the Yale School of Management Education Leadership Conference:
I am disappointed, yet not surprised, that this year's Education Leadership Conference has chosen to host Julia Keleher as one of their keynote speakers for leaders in education reform. Keleher's "reform" of the Puerto Rican public education system does not serve to solve any of its problems but rather to mutilate it in order to benefit all but those Puerto Rican citizens who actually rely on high quality public schools.
This celebration of Keleher's work only displays the way in which members of elite institutions like the Yale School of Management can be so blind to the reality and context of life in Puerto Rico.
To Former Secretary of the Puerto Rico Department of Education Julia Keleher:
During your time as the Secretary of the Puerto Rico Department of Education, you promoted the closing of over 400 public schools. You boasted that schools were mostly back to normal just weeks after Hurricane Maria, despite the fact that many schools still did not have power well into January of 2018.
Rather than overseeing plans that would put the public school system onto a path of genuine recovery and growth, you pushed the creation of charter schools. In addition to this quasi-privatization of public schools, you blatantly spoke out about your intentions to meld schools with the private sector. You even boldly stated that students in Culebra should start being trained to be streamlined into the tourism industry, as if tourism should be prioritized as the only viable option for young Puerto Rican students as they grow up.
Even now as you step down from your former position, you will receive a salary of $250,000 just to serve as an advisor the education department of Puerto Rico. This is more than 10 times the average salary of a teacher in Puerto Rico, which only further highlights the longstanding disrespect you have exemplified for the public school teachers of PR. You have described unionized teachers engaging in peaceful civil disobedience as "violent" in attempts to invalidate their defense of an uncompromised public school system. Teacher unions have been part of the foundation of Puerto Rican cultural preservation, as they were key activists in the fight against English-only education efforts in the 1900's and for keeping Puerto Rican history and cultural traditions in curriculum.
PR's community of teachers has already been damaged by recent anti-union legislation, and your proposed charter schools would only further harm it as teachers and locally elected school board members are largely left out of their decision making process. These charter schools which you proudly explain are schools that use government funding yet are run privately (or in other words, not run democratically) further expose the colonial government practices already present in PR, which you uphold.
Beyond the political tone-deafness of the "reform" you have implemented in Puerto Rico, your sureness of their success only speaks to how little you understand life in Puerto Rico and the students you are meant to serve. PR residents know how long it can take to travel around the island due to road congestion and a lack of reliable public transportation. Forcing teachers to work 2 hours away from home through your merging of public schools is hugely disrespectful to their time and value. Working parents also cannot just drive their children to far away schools when buses are not available. Furthermore, the higher number of buses that would be required to transport students to school would only worsen the air pollution which causes Puerto Rican children to suffer some of the highest rates of asthma in the world.
Charter schools also consistently underserve and exclude students with special education needs, which account for more than 40% of all Puerto Rican students. This must not be ignored in plans for PR's public school system.
The island's limited funds for public education should be used to repair and update existing school buildings, not spent on unnecessary and detrimental charter schools and temporary trailers. You have relied on the emigration of families after Hurricanes Maria and Irma to justify your closing of schools, but basic logic dictates that closing schools would only worsen the conditions that made them leave in the first place. For many Puerto Ricans, moving to the mainland US was not meant to be a permanent relocation, but your "reform" only makes it harder for families to eventually return to their homes. You are closing pillars of local communities, which in turn weakens the entire island's social and economic progress.
Though perhaps said jokingly, perhaps said in attempts to ameliorate the image of a non-Puerto Rican undermining the island's public school system, you have referred to Puerto Rico as your "adopted land." Though being Puerto Rican is not just about where you live and the diaspora is an integral part of the community, a fundamental part of Puerto Rican identity is a deep shared history of struggle and resilience, which you can never be a part of. This is especially true with your commitment to your role remaining outside of the sphere of the island's politics. While the support of public education should always be bipartisan, no current administrative position in Puerto Rico is apolitical, especially not under the undemocratically appointed fiscal control board of PROMESA.
Sincerely,
Adriana Colón-Adorno
Yale College Class of 2020
A few days ago Yale's School of Management hosted a conference on Educational Leadership that featured as its principal speaker Julia Keleher, appointed under controversial circumstances to be the director of Education in Puerto Rico.
Keleher had recently resigned under the shadow of a federal government investigation into the irregularity of contracts concluded during her administration, a period characterized by an extreme reduction of the number of public schools and a move toward the privatization of education on the island.
She told her audience at Yale that she regretted the pain that many communities suffered from the closing of so many schools, but that "someone had to be the adult in the room."
This is a discourse of "the white man's burden" that sadly repeats the way in which the U.S. has viewed its "benevolence" toward Puerto Rico since "we" occupied the island.
In 1899 following the worst hurricane on the island prior to Maria in 2017, Major John Hoff, head of the U.S. relief effort, put it clearly: "We will keep them alive; will lead them slowly gently toward the light, and finally in half a hundred years they will catch the first glimmering ray which will show them what our standards are and what we wish theirs to be."
These are the attitudes of "tutelary colonialism" that have been recurrent in our relationship with the island in particular, and with Latin America in general. One need only examine the current tweets of the President and the attitude of Congress in the previous administration toward the island's fiscal and humanitarian crisis to see that our policies continue to be shaped by a combination of depreciation of the Puerto Ricans tinged with racism, corruption both here and on the island, and, as Keleher's policies represented, a kind of "disaster capitalism" aimed at reducing the public sector of education. Even within a capitalist economy education, we might remember, is not simply a matter of profit and loss. It is an investment in long term returns.
That Ms. Keleher was able to use Yale as a platform for her program and attitudes (her picture speaking from a podium surrounded by Yale logos appeared prominently in El Nuevo Día, San Juan's most popular daily paper) was particularly disheartening given Yale's long and positive association with the island where former faculty like the Historian Hiram Bingham (who as Senator led a Congressional committee that advocated extensive relief to the island in 1928) or the anthropologist Sidney Mintz (whose extensive personal library was recently donated to the University of Puerto Rico) represented a profound concern for the island and a respect for its culture and its people.
BY JULIA KELEHER  –  MAY 29, 2019
Shortly after assuming the responsibilities of Puerto Rico's Secretary of Education in 2017, I was confronted with the harsh reality of how students and families on the island are affected by poverty.
During school visits in those early months, I met hundreds of smart, hardworking students who lacked notebooks, pencils, or other basic supplies. Many were missing parts of their uniforms, and others wore uniforms that were obviously too big or too small. Teachers and principals would identify students who, more days than not, showed up to school hungry and tired. One school found that over half of its entering first-graders had undiagnosed vision problems.
I remember asking myself, how did we get to a point where this level of need was the norm?
I'll be honest: I was often taken aback, even after a career working in under-resourced schools and communities. And that was before Hurricane Maria, whose devastating impact was not first felt until September 2017.
When Hurricane Maria passed over the island, the most vulnerable segments of Puerto Rico were disproportionately impacted by the devastation. Today, the struggles of those families continue, lost in the swirl of other breaking news.
I resigned as secretary a few months ago. But I am committed to getting more people to realize our moral imperative to help Puerto Rico's young people. I worry that, instead, there will be a collective failure to act.
Let me remind you of the stakes. A 2016 government report found that nearly 1.5 million Puerto Ricans were living beneath the federal poverty level. In 2017, the share of eighth-graders who demonstrated proficiency on the federal NAEP math assessment rounded to 0 percent.
Since the storm, schools and government agencies have worked to help families address their immediate needs, though a sizeable number of children still lack adequate food, clothing, and shelter. This leaves little opportunity for enrichment experiences that would enhance children's well-being, personal development, and cognitive growth. And even if those opportunities could be provided, many children and their families struggle to recover psychologically from Hurricane Maria. Research continues to show high rates of post traumatic stress among the island's school-age population.
Puerto Rican educators have long been working hard to educate children living in poverty. Teachers, principals, and administrators understand how students' living conditions can compromise their growth, development, and readiness to learn.
In the face of the obvious lack of funding, I watched caring and committed teachers and principals go the extra mile. Schools organized donation drives, connected families to outside resources, and developed creative ways to compensate for a lack of material resources. Puerto Rico's incredible cadre of school social workers are exceptionally skilled at helping families navigate crises. They work tirelessly in schools across the island, to deliver customized workshops that teach teachers, students, and families strategies for dealing with post-traumatic stress.
It was amazing to witness how these individuals, who had been impacted by Hurricane Maria themselves, dedicated their energies to ensuring school communities could become more resilient.
But their efforts could only go so far. During my tenure as secretary, we worked to improve the quality of educational programs and support services available to students. The truth is there were simply not enough resources available.
Every year, as we prepared the agency budget request, I found myself frustrated by funding limitations and government-wide fiscal constraints. With its current levels of funding, the Department of Education cannot meet the needs of its students.
I accepted the challenge of leading public education in Puerto Rico because I believed I could make a difference. I wish we would have been able to do much more to address the effects of poverty on students' growth and development.
Now, I hope federal funding for desperately-needed health and nutrition assistance programs will grow. I hope future school budgets are sufficient to ensure no student goes without notebooks, pencils, a well-fitting uniform, and a counselor who can guide them as they make academic and career choices.
Poverty in Puerto Rico should concern all Americans — including those who advocate on the mainland for better schools and antipoverty programs. Puerto Rican children are American children, and they have every right to realize their dreams of becoming our next entrepreneurs, scientists, athletes, leaders, and stars.
Just four days after her abrupt resignation as Puerto Rico's education secretary, Julia Keleher went to Yale University to deliver a highly charged and unusual speech. The subject was leadership, an apt one for an education management conference, but it was also Keleher's own story — a defiant and sometimes bitter narrative of pushing for change against the island's culture of corruption.
Before she became secretary, Keleher told the hundreds of people assembled at New Haven's Omni Hotel in April, getting things done in Puerto Rico's tangled education system amounted to "basically political favoritism."
"Who you knew determined what job you had, irrespective of your experience or your capacity to perform," she said. Ending that practice "won me armies of people that literally would have been happy to take my head off."
But even then, Keleher was the target of a large-scale corruption probe by the Federal Bureau of Investigation that threatens to upend that portrayal.
In July, she and five others were indicted as part of an alleged conspiracy to illegally direct more than $15 million in federal funds to organizations with personal and political connections. The charges helped bring down the administration of Gov. Ricardo Rosselló, who, although not implicated in the case, had appointed Keleher to revolutionize the island's education system in 2016. Keleher and her co-defendants pleaded not guilty to the charges, and her attorney stressed that she is not accused of benefiting financially from the scheme.
At the Yale event, Keleher, 44, dismissed a reporter's question about rumors of federal investigations then swirling around her departure. "I have no comment on the investigations," she said. "Investigations have been happening at the Department of Education since forever."
What may have sounded like a brush-off hinted at a deeper irony. Years before becoming education secretary, Keleher worked on a U.S. Department of Education team tasked with fixing compliance problems involving waste, fraud and mismanagement of federal funds in Puerto Rico's school system — issues that had led to the conviction of another former education secretary nearly two decades earlier.
Her role on the other side of the island's federal education probes is one of many lingering riddles to have emerged since her arrest. Friends and former colleagues describe Keleher as a fierce advocate known for 2 a.m. emails and sometimes little sympathy for those lacking her single-minded work ethic. But they also recall her as someone too smart to cut corners and too tough to get ensnared in someone else's scheme.
"She just wants to cut through all of the crap, essentially, to get something done," said Ellen Forte, CEO and chief scientist at edCount, an education consulting firm. The two met while working to correct compliance issues on the island — meetings that left Forte feeling that Keleher would never "engage in anything that wasn't above board."
"It's so bizarre," she said. Speaking of Keleher's monitoring duties on the island, she said, "It's surreal in a way that someone who was doing this is suddenly charged with being the criminal."
'Big data' whiz
As Puerto Rico's education secretary, Keleher portrayed herself as being on a mission to rescue the island's moribund school system. In 2017, she seized on Hurricane Maria's devastation to close hundreds of schools and embrace new charters and private school vouchers. Amid the ensuing protests and online ridicule, Keleher didn't back down.
A look at her life and career reveals that her frustration with the status quo started early.
Keleher grew up in the Philadelphia suburbs and, after graduating from Cardinal O'Hara High School, a Catholic school, attended the University of Pennsylvania for her bachelor's and master's degrees.
It was during grad school, after spending time with struggling students in North Philadelphia, that she observed that "we could probably do this better," according to a 2018 profile by Penn's alumni magazine.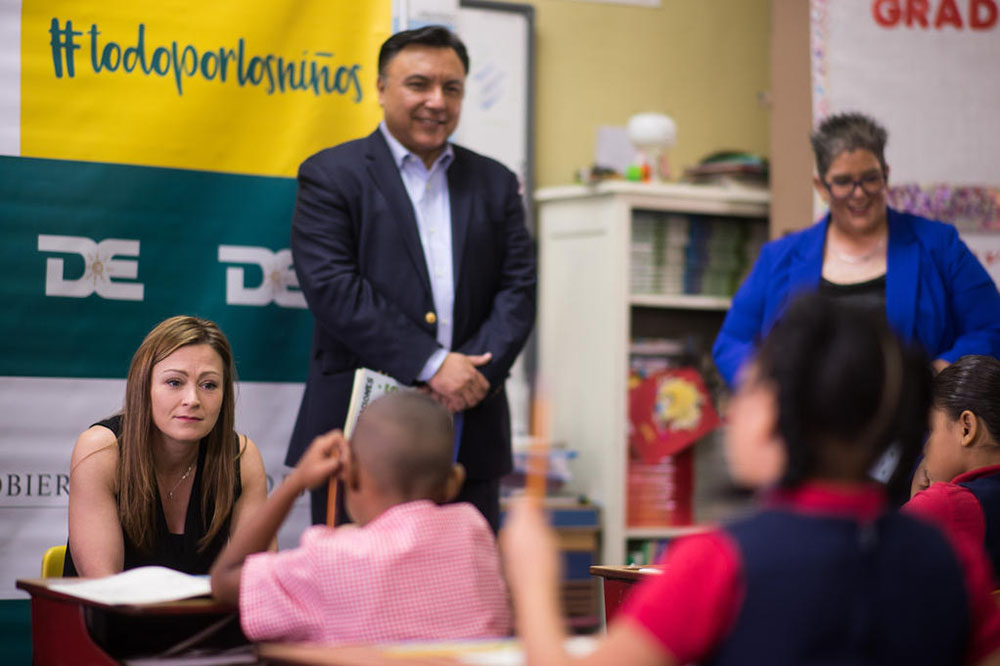 That drive carried into a seven-year stint at the Red Clay Consolidated School District in Wilmington, Delaware, where she worked her way up from guidance counselor to special assistant to the superintendent.
Delaware colleagues took note of Keleher's long hours and tireless work ethic.
"If there's such a thing as a workaholic," Keleher was it, said Deborah Fetzer, a retired teacher who worked with her at a district middle school.
Jennifer Shields-Russell, a former district administrator and elementary school principal at Red Clay, remembers well Keleher's middle-of-the-night emails. On one occasion, Shields-Russell submitted a proposal to Keleher and, because the two belonged to the same gym, later observed her on an elliptical, reading the document while working out.
"She's articulate, she's definitely very bright, and she doesn't have a whole lot of empathy for people who don't share those traits," said Shields-Russell, who left the district in 2012 and is now retired. "If you want somebody to work really, really hard on something, she's the go-to kind of person. But if you're trying to balance some other things in your life, and you don't work that much, perhaps you weren't in her favor all the time."
Though Shields-Russell felt Keleher was young for her level of responsibility, she admired her drive to help other young women land leadership roles. Keleher's biggest achievement at the district, in Shields-Russell's view, was an effort to streamline the top-heavy school system.
"She definitely had a business model in mind," Shields-Russell said. "You couldn't come to her with just an idea. You needed to come to her with a full-scale business plan."
Keleher's reputation as a data whiz continued when she came to the federal education department in 2007. Alan Ginsburg, who worked there for 40 years before retiring in 2010 as director of policy and program studies, said he and Keleher helped create an internal system to compile data from a variety of sources to assist federal monitors. The system offered pinpoint information about state performance, school demographics and audit findings.
"She was terrific at big data. She also had a laser focus," he said. "She was the best down there in terms of focusing on what a data system should look like." During her tenure at the department, Keleher also worked as part of a team that monitored compliance in Puerto Rico's school system, which had a lengthy history of financial mismanagement.
"They just couldn't track the money," Ginsburg said. "They didn't have accounting systems set up, and the school system wasn't doing very well." Her work in Puerto Rico may have informed Keleher's data-wrangling, he said, giving her "some experience, I think, as to what would be needed."
An 'internal civil war'
The atmosphere in Puerto Rico's education department at the time resembled an "internal civil war," according to a former Obama administration political appointee who worked with Keleher at the federal agency. Puerto Rico's department lacked nonpartisan civil servants and was dominated by political cronies, said the official, who spoke on condition of anonymity due to the criminal charges against Keleher. Turnover was rampant, and the department frequently lacked critical expertise to help itself.
Keleher, the official said, was tasked with providing technical assistance on oversight and recognized that the department lacked the know-how to properly handle some of the obstacles it faced managing federal grants. She understood federal rules and knew the island's troubled track record of compliance failures.
Many of those challenges stemmed from the tenure of previous education secretary Victor Fajardo, convicted in a massive corruption scandal with some parallels to the indictment against Keleher and her co-defendants. Fajardo, the island's education secretary from 1994 to 2000, was convicted in 2002 of leading a $4.3 million theft, extortion and money laundering scheme. Much of the money had been earmarked for computers and teacher training on new technology. Instead, officials said, Fajardo used shell companies to pocket the cash and directed about $1 million to the New Progressive Party, helmed by then-Gov. Pedro Rosselló, the father of recently resigned Gov. Ricardo Rosselló. (Neither Rosselló was implicated in the case.)
Months after the indictments, the U.S. Department of Education designated Puerto Rico's school system a "high-risk" grantee, a much-feared label given to departments deemed financially unstable. The label places special conditions on federal grants and is designed to trigger stricter, more frequent federal oversight, with the worst offenders unable to receive federal funds. As a result, federal officials provided Puerto Rico's education department with technical assistance on grant requirements and fiscal issues for more than a decade.
"You'd look at things and say, 'Well, I guess there were people who are up to no good and taking inappropriate steps and actions and maybe even personally benefiting.' And then, in other cases, you thought it was just complete incompetence."
---
Forte, the education consultant, said she met Keleher when the two worked to resolve those issues. Forte was helping Puerto Rico meet Title I requirements around standards and assessments, and Keleher was on a team focusing on a host of issues, including financial management. In those interactions, and in subsequent meetings when the two lived in Washington, Forte found Keleher to be "one of the most intense people I've known professionally."
"She really did seem to be almost always on the job, always thinking about stuff, never satisfied with just letting things go," she said.
At the time they met, Puerto Rico's education department — the territory's largest government agency — was in chaos, Forte said. At one point while she was there, she said, officials were taken out in handcuffs for mismanaging money. The department also frequently allowed federal grants to lapse without drawing down the funds.
"It was a mess in all directions, really," Forte said. "You'd look at things and say, 'Well, I guess there were people who are up to no good and taking inappropriate steps and actions and maybe even personally benefiting.' And then, in other cases, you thought it was just complete incompetence."
In her interactions with Keleher, however, Forte saw someone capable of standing up to the island's culture of corruption.
"She'll rub people the wrong way, for sure, but if you're doing something wrong, then I might be a little scared of her because she's going to figure that out," Forte said.
While at the federal department, Keleher helped carry out an agreement to address the island's unresolved compliance issues. In 2015, she co-authored a definitive report about the episode with a professor at The George Washington University, where she worked as an adjunct.
The report focused on how districts and the federal department could work together to overcome "systemic problems that gave rise to repeated and unresolved audit findings." Officials at Puerto Rico's education department "demonstrated tremendous commitment and hard work throughout this process and were ultimately successful in addressing the identified risks," the report noted.
Her work on the island got noticed, and it made some believe she had the requisite skill to be secretary.
Eleuterio Álamo, who led the department's regional office in San Juan, recalled to Penn's alumni magazine how he met Keleher in 2010, when she helped oversee the agreement between Puerto Rico's department and the U.S. Department of Education to improve the island's management of federal grants. Those interactions, he said, gave him confidence in Keleher's leadership.
Álamo praised Keleher's ability as education secretary to combat political influence leveraged by union leaders and government officials. "Julia has made it clear," he told the alumni magazine, that politics must be "out of the system."
Inside The Matrix
Those qualities endeared her to Ricardo Rosselló, elected Puerto Rico's governor in 2016. The son of the former governor, he inherited a $7.5 billion budget deficit, and the island's bloated education department — essentially a third of its budget — was an easy target.
He expressed a desire for someone who understood Puerto Rico's education bureaucracy yet was willing to "break the system and rebuild it again."
That's what he saw in Keleher, who by that point had worked with the island's education department under three administrations. During her tenure, Keleher — a white woman from Philadelphia without personal ties to the island — was criticized as an outsider. But for Rosselló, her status was an asset.
"If you take somebody inside of the system, it's kind of like The Matrix — it already owns you," Rosselló told the alumni magazine.
As Keleher told the Yale audience in April, the view from inside The Matrixoften wasn't pretty.
School buildings were crumbling. Many had mold or lead paint. The bureaucracy was large and unwieldy. Because the island operated as one giant school district, all 1,296 principals reported directly to Keleher. Transparency was difficult to come by. For example, she said, a student information system would place teachers in one location while a staff database put them in another. And only 5,000 people routinely registered in a time-and-attendance system meant to track 50,000 school employees.
---
"If you take somebody inside of the system, it's kind of like The Matrix — it already owns you."
On top of that, she told the Yale crowd, she found — and fought — a pervasive system of political favoritism, earning her a slew of enemies.
"I stopped the practice of providing contracts to people who funded campaigns because the way it used to work was that after the campaign, the secretary would take office and there was a series of people who'd line up to sell something," she said. Puerto Rico's education secretary has traditionally been a political appointee, she said, and contractors who worked on campaigns expected to secure contracts. "I would call that out," she said, "in a place where no one would call that out, no one was indignant, no one was upset about that."
The indictment against Keleher and her co-defendants, however, lays out a different story.
According to prosecutors, Keleher's attempts to steer contracts to close acquaintances began the month she became secretary in January 2017. That's when Glenda Ponce-Mendoza began working as Keleher's "special assistant," though she wasn't employed directly by the department, according to the indictment. The two allegedly helped Glenda's sister, Mayra Ponce-Mendoza, secure an education department contract for her company, Colón & Ponce, in what prosecutors describe as a "corrupted bidding process."
For Forte, news of Keleher's indictment triggered old memories. She immediately recognized the name of Glenda Ponce-Mendoza, who attended several meetings in Puerto Rico during Forte's time there.
"I was never really sure if she was a staff member in the department or how she was connected," she said, but "she seemed like a right-hand person to Julia."
Reached by phone, Keleher told The 74 that she would not comment on the specifics of the indictment. But she said she was frustrated with "incredibly damaging and hurtful" news stories that are "completely inconsistent from the facts."
Keleher's attorney, Maria Dominguez, and lawyers for the Ponce-Mendoza sisters also declined comment, citing an expansive gag order placed July 12 by U.S. District Judge Pedro Delgado-Hernández. In previous comments to The 74, Dominguez called the charges against Keleher "significantly different" from other public corruption cases because she isn't accused of accepting kickbacks or bribes. "We don't believe this is a meritorious prosecution," she said.
'Individual A'
As Colón & Ponce worked to secure an education department contract, prosecutors allege, an official at the consulting firm Keleher founded in Washington helped craft the proposal. The firm, Keleher & Associates, had multiple contracts — totaling nearly $1 million — with the department dating to 2013, pertaining to issues ranging from flexibility waivers on federal requirements to accountability under the Every Student Succeeds Act.
Named only as "Individual A," according to the indictment, the official from the firm was "authorized to execute all legal and administrative documents" related to ending Keleher & Associates' business on the island. The indictment says that document was signed "on or about" Jan. 25, 2018 — the same day, according to paperwork filed with the island's state department, that Vanessa Monroy renounced the six-person firm's business ties to Puerto Rico. Monroy, listed in a government filing as the firm's president, has extensive links to oversight in Puerto Rico. She helped the island's education department navigate federal efforts to correct "long-standing and serious compliance deviations that placed at risk billions in federal funding," according to her organizational bio.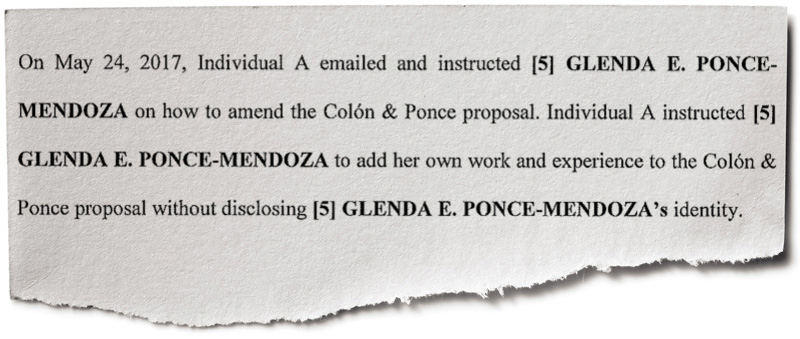 Six days after Keleher's resignation, and two days after her speech at Yale, island media reported that in August 2018, FBI agents raided Monroy's Puerto Rico home, seizing her phone and computer. Her husband told local reporters that Monroy and Keleher years earlier had worked together to resolve long-standing issues stemming from the corruption scandal that had brought down Fajardo, the previous education secretary.
Monroy didn't respond to multiple requests for comment from The 74. Neither did officials at the FBI nor the U.S. Attorney's Office in San Juan.
Though Puerto Rico's education department hadn't yet requested the services Colón & Ponce was offering, prosecutors allege that Keleher instructed the agency's director of federal affairs to award them a contract for $43,000, an amount later increased to nearly $100,000. An island official, the indictment said, determined it was "the only company not qualified for the contract, and was the worst applicant."
A department contract posted on the website for the island's comptroller indicated that the company's duties included helping to manage federally funded projects, implementing school improvement plans and evaluating student performance.
Prosecutors went on to accuse Keleher of another form of patronage. In June 2017, Keleher received an email from an unidentified 2016 gubernatorial candidate that included the résumé of his campaign director. Former candidate Manuel Cidre — who ran unsuccessfully against Rosselló in 2016 — later confirmed that he emailed Keleher on behalf of his former campaign director, Marie Estela Cestero. Because hiring Estela Cestero as a government employee "would not be feasible," according to the indictment, Keleher told her she'd be paid for her work as a "special assistant" by Colón & Ponce, totaling $15,000.
When the contract with Colón & Ponce expired, the auditing and accounting giant BDO continued the payments, awarding Estela Cestero $46,000 to continue her work as Keleher's assistant, the indictment said.
Reached by phone, Estela Cestero — who confirmed she did communications work for Cidre's independent gubernatorial bid — said she was surprised to see her employment with Keleher referenced in the indictment. She said she was hired by Keleher to design a safety plan for the island's schools, and though she received payment from Colón & Ponce and later from BDO, she said that wasn't suspicious because she worked as an outside consultant. According to the indictment, however, she had an official education department email address and represented herself as Keleher's special assistant in emails with government officials.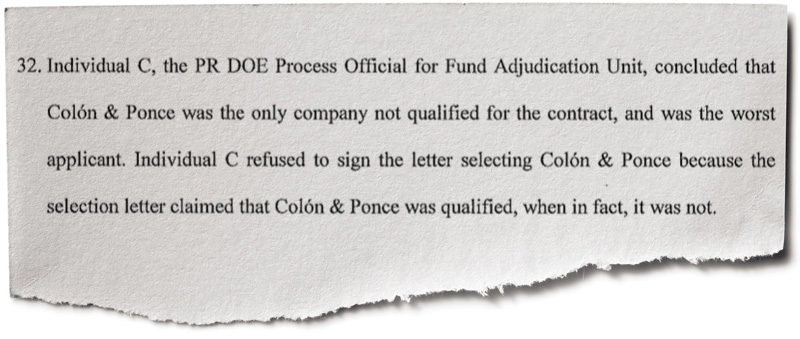 Attempts to contact Cidre for comment were unsuccessful.
As laid out in the indictment, Keleher's involvement with BDO represented a far more expansive scheme. Consultants diverted more than $13 million in education department contracts with help from "individuals with government influence" in order to "benefit and enrich themselves," the indictment said. BDO subcontracted with the company Azur, granting it a 10 percent commission to help secure contracts, thus inflating the cost of services.
Keleher put her thumb on the scale during the process, the indictment said, by using a personal email account to help company executives write their proposals, agreeing in one message to general language that wouldn't limit the scope of BDO's work.
The BDO official, Fernando Scherrer-Caillet, resigned from his position as managing partner following the indictment. Citing the gag order in the case, his attorney declined to comment. BDO officials didn't respond to calls to discuss the case but said in a statement to local reporters that it takes the allegations seriously and will continue to cooperate with federal officials.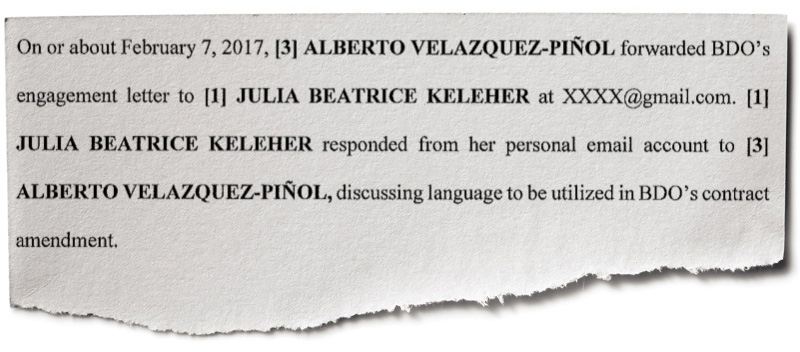 An attorney for indicted Azur owner Alberto Velázquez Piñol also didn't respond to requests for comment.
An online search of island documents revealed that BDO's wide-ranging contracts pertained to resolving audit findings, as well as improving teacher evaluations and professional development.
But they also covered topics that would soon make Keleher nationally known and infamous in some corners of the island: large-scale school closures and education reform initiatives.
Hurricane's impact
In September 2017, Hurricane Maria ravaged the island, leaving Puerto Ricans without power for months in what would become the worst blackout in U.S. history. More than a million people were left without clean water. Neighborhoods were ransacked. Thousands of people were killed.
With schools shuttered islandwide, Puerto Rican children missed months of classroom instruction while thousands of others fled to states such as Florida, New York and Massachusetts — continuing a decade-long exodus to the mainland.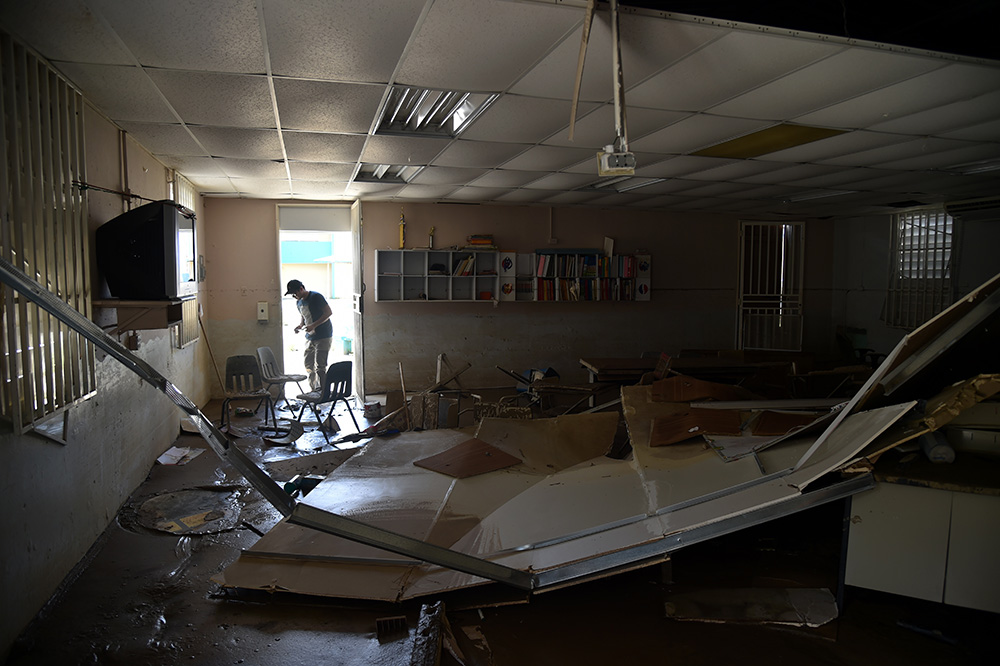 Amid the destruction, Keleher saw an opening.
The island's education system had failed its students for years, she said, and change was long past due.
"Of the things I need to worry about — the buildings, the poisoning from rats being around, the flooding, moving kids, transportation, sliding roads — the thing that worries me the most is that somehow I'm not going to deliver on this learning opportunity, this transformational opportunity for us to start to think fundamentally differently about what it is to be in school, and how one goes about getting an education," Keleher told The 74 in October 2017.
But the education reforms — and her $250,000 salary — brought her under a constant barrage of criticism. Montessori school leaders were among the loudest critics, speaking out against Keleher's plan to convert their campuses to charter schools. Such an arrangement, Keleher told The 74 in 2018, would have allowed them to apply for additional federal money. While the schools "helped a lot of kids," she said, their low enrollment made them ripe for closure.
When the government announced a plan to shutter nearly 300 campuses, 15 Montessori schools were included. Ana María García Blanco, executive director of the nonprofit Instituto Nueva Escuela, which promotes the growth of Montessori schools in Puerto Rico, discussed the proposal on several occasions with Keleher and officials from BDO, which she said helped carry out a haphazard closure plan.
During the meetings, García Blanco said Keleher seemed intent on following through with her plan no matter what. But members of the Montessori community successfully fought back, García Blanco said, and in the end, none of their schools were closed.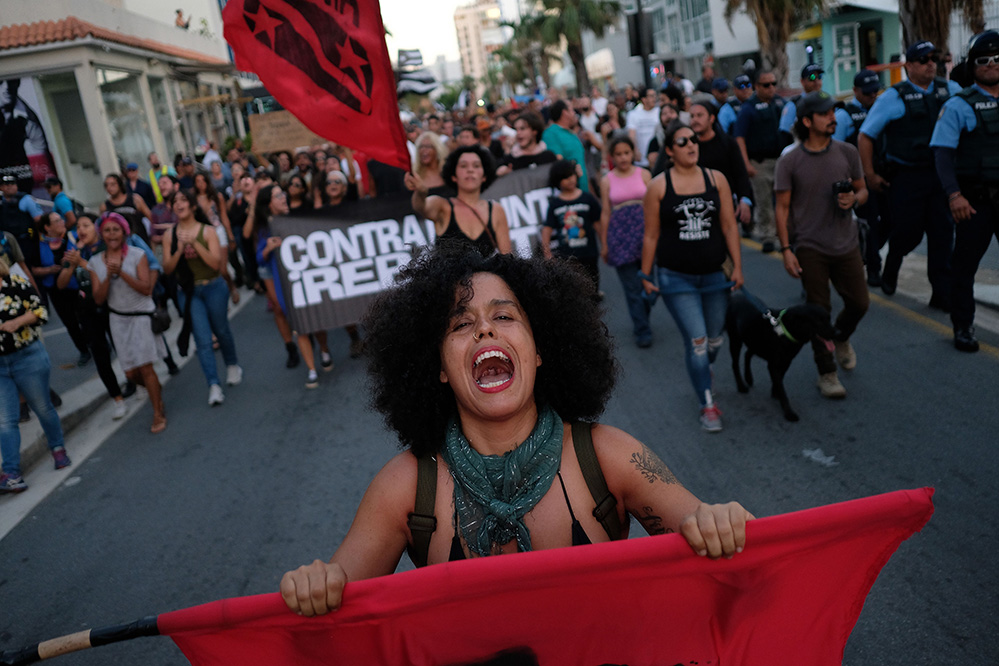 The charter push was a major goal of former governor Ricardo Rosselló. In October 2018, he delivered a speech at the Center for Education Reform's 25th anniversary gala in Miami, where he encouraged participation in Puerto Rico's reform efforts. Jeanne Allen, founder and CEO of the nonprofit school-choice group, said center officials and charter school leaders made several trips to Puerto Rico, where they met with Rosselló and Keleher. Jay Rosselló, the former governor's brother and an attorney at the Chicago law firm Hogan Marren Babbo & Rose, helped facilitate the meetings, Allen said.
Because Puerto Rico had limited experience with charter schools, the island's new education reform law provided an opportunity for "seasoned operators" interested in participating in the "nascent reform effort," according to a post on the law firm's website by Jay Rosselló. For interested parties, according to the post, the law firm "stands ready to assist."
But to Allen, Keleher seemed to be on a different path. At a time when many Puerto Ricans vilified Keleher for embracing school choice, it seemed to Allen that the former secretary resisted charter school growth. Mainland charter operators who expressed an interest in Puerto Rico's reform efforts "got zero help" from Keleher, Allen said, "and, in fact, were discouraged."
"Something was fishy when great people that are willing to actually spend time and resources to open up schools on behalf of Puerto Rico's children are basically told 'It won't work, they can't do it, it's the worst place,'" Allen said. "She would even say, 'It's the worst place, you have no idea. This place is worse than any other place to open schools.'"
Jay Rosselló didn't respond to requests for comment. In a statement to reporters on the island, he acknowledged working briefly on behalf of the center and attending a meeting between the nonprofit and his brother, but he denied that his work presented a conflict of interest.
Allen's depiction of Keleher's arm's-length approach to school choice comports with the recollections of others.
David DeSchryver, senior vice president and co-director of research at Whiteboard Advisors, a strategic consulting and communications firm, said he got to know Keleher through the education policy scene in Washington, D.C. Though she often discussed the challenges that faced Puerto Rico's education system, she didn't come off as a school-choice "ideologue," DeSchryver said. Because of the island's logistical challenges, he also expressed skepticism that charter school leaders were clamoring to open campuses there.
In interviews with The 74, Keleher said she wanted charter schools there to be "uniquely Puerto Rican" and voiced reservations about working with established mainland operators. "We're not the same as inner-city Baltimore," she said. "I don't think you can take it from the States and plop it down" in Puerto Rico.
Last year, just one charter school opened in Puerto Rico, and a second launched last week.
'It seems impossible'
In April, as Keleher spoke to the Yale education management conference, she noted some key lessons from her tenure as secretary, including "being comfortable with ambiguity, having 65 percent of all the information you need."
In the wake of the indictment, much of that ambiguity remains. At Yale, she spoke little of the expansive plans for charter schools and vouchers and more of simple gains: a planned salary increase for teachers, resources such as laptops and nurses, and the division of the island's giant education bureaucracy into seven geographical regions.
Although she acknowledged being hurt at times by her outsider status — shortly after Maria hit, the hashtag #juliagohome became ubiquitous on Twitter — she remained unapologetic.
"There was nothing, absolutely nothing, that was going to deter me from accomplishing what I set out to do," she said.
But she also spoke of "the vast and powerful array of enemies" she faced. Critics mocked her through numerous memes and a satirical Japanese-style cartoon. After her arrest, Los Rivera Destino, a Puerto Rican band, dedicated a rendition of one of its more popular songs, "Te Boté," to "corrupted politicians," naming Keleher and Rosselló.
Despite the long-percolating news that Keleher was the target of an investigation, her arrest sent shock waves across Puerto Rico and in mainland U.S. communities where Keleher previously worked.
---
"There was nothing, absolutely nothing, that was going to deter me from accomplishing what I set out to do."
---
"I'm retired, not dead," said Shields-Russell, who worked with Keleher in Delaware, when asked if she'd heard of the indictment. For Shields-Russell, and others, the news came as a surprise. "I never saw or would suspect her of being dishonest," she said. However, she added, "I would find it very difficult to believe she was the victim of someone else because she is so thorough."
Forte, the education consultant who worked with Keleher on the island, was similarly at a loss. She acknowledged her own challenges navigating Puerto Rico's dysfunctional educational bureaucracy: It was "nearly impossible," she said, "to get contracts through."
"Maybe there's a level of frustration there that, to really get stuff done, the typical channels may not work," Forte said. "That's the only thing that would come to mind. Otherwise it seems bizarre. It seems impossible."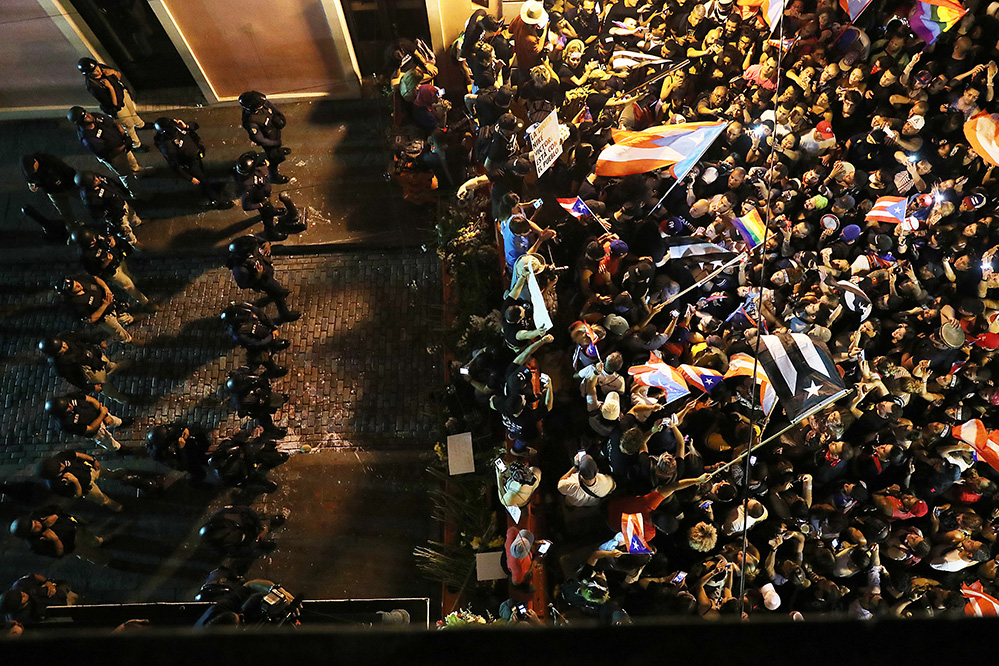 Keleher's indictment was just the first act in what escalated into a full-blown government crisis. Days later, reporters with the Center for Investigative Journalism in Puerto Rico published a trove of leaked messagesbetween Rosselló and people in his inner circle. Among the messages, often laden with profanity, were statements mocking Hurricane Maria victims and a claim that teachers union leaders are "terrorists." After huge protests hit San Juan, Rosselló resigned on Aug. 2.
Still, as the island's government stumbles to recover from controversy, federal education officials warn that more challenges lie ahead. A week after Keleher's indictment, the inspector general's office at the U.S. Department of Education released a new salvo in its ongoing critique of the island's school finances, echoing reports that date back more than a decade, to Keleher's tenure in federal government.
Puerto Rico's school system, the report found, lacks "critical mechanisms for safeguarding" funds "from fraud, waste, and abuse."
[1] https://www.youtube.com/watch?v=4jkXValu6iY
[2] https://suarezepr68.wordpress.com/2017/11/22/its-not-all-about-the-kids/
[3] https://suarezepr68.wordpress.com/2015/12/03/education-reform-is-basically-an-anti-teacher-movement/
[4] https://suarezepr68.wordpress.com/2017/07/27/es-facil-hablar/
[5] https://suarezepr68.wordpress.com/2017/02/26/fifty-shades-of-teacher-la-oscuridad-del-panico-moral-y-la-caceria-de-maestros/